"I used to spend about two hours a day scraping and hauling manure.  Now I'm finished in a half hour!".
- Warriors Mark, PA
" I liked the pumping system on the Slurrystore.  The whole tank is agitated from one spot.  It sure is more convenient than moving a pump around in a concrete tank to get it agitated.  I talked to a farmer with a concrete tank about agitation.  The first manure they haul is very watery and gets hauled to the close fields for heavier application.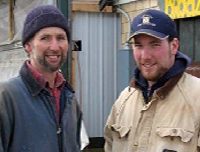 As the tank gets empty, the manure gets a lot thicker and gets hauled further away.  Those fields get less applied per acre.   Slurrystores look good and they are clean.  When I was considering manure storage, every farm I went to with a Slurrystore was neat and clean.  And the idea of expansion appealed to me.  Who knows the future?  Having a Slurrystore system will allow us to grow.
The people at Penn Jersey are professionals and they know how to install a system that works!".